Brickwork and Stone Cleaning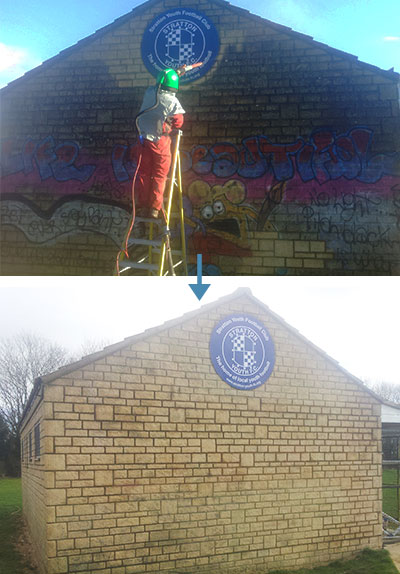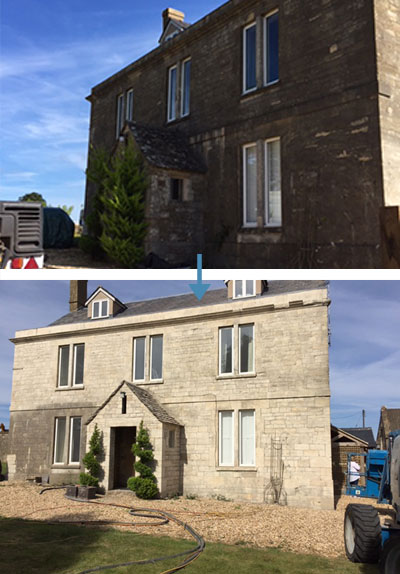 Cotswold brick and stone cleaning specialists
We offer a professional and cost-effective stone and brickwork sandblasting cleaning service for all types of buildings in the commercial and domestic sectors. We can restore any stone or brick surface, be it a wall, floor or statue, to its original appearance.
Handled with Care
We always assess the surface and use the most suitable blast material to ensure an effective and safe clean. We are also experienced in working with listed and historical buildings.
Our expert team are well trained to handle damaged and delicate architecture with care.
Graffiti Removal
We also offer a graffiti removal service that will completely expel the paint from many varieties of stone and brick walls.
High Temperature/Pressure Steam Cleaning
We also offer a high temperature/pressure steam cleaning service, which is ideal for delicate surfaces found on stone/building facades or ancient monuments. The machine is similar to a pressure washer but generates steam rather than using cold 'mains fed' water. The steam allows us to eliminate grime, lichen or grafitti from stone, brickwork, metal or industrial machinery without causing damage.
Sandblasting Cleaning Services
In addition to mobile sandblasting, we provide a range of on-site blast cleaning services including:
Full external building cleaning - with ultra high temperature steam cleaning
Pavement and masonry pressure washing
Annual maintenance cleaning contracts
Facia and building facade cleaning
Building cleaning
Grafitti removal
Paint removal
Testimonial
Harvey Moon did a fantastic job of cleaning the horrible grey paint from the front of our Cotswold stone house. Thanks to the efficient work of Ron and his team, the paint was blasted off in a day, leaving the house looking really beautiful. Harvey Moon were prompt, effective and very reasonably priced. They left everything neat and tidy and I would happily recommend them to anyone else considering this kind of work. It has made a massive difference to the look of our house and I am sure that improving the frontage has increased its 'street appeal' and added to its value.

Sue Fudge
To book a site survey with a follow-up quotation
Contact Us
Areas Covered
Gloucestershire
Wiltshire
Oxfordshire
Somerset
Bristol
Worcestershire